18.11.2019
LUMITECH FOUNDS LED LINEAR AUSTRIA GMBH
LED Linear is a premium provider of linear LED lighting systems for technically demanding interior and exterior lighting. The German company employs some 170 people around the world and has an export ratio of almost 90%. LED Linear is part of the Fagerhult Group. LUMITECH has now set up LED Linear Austria, headquartered in Jennersdorf, to develop the Austrian market.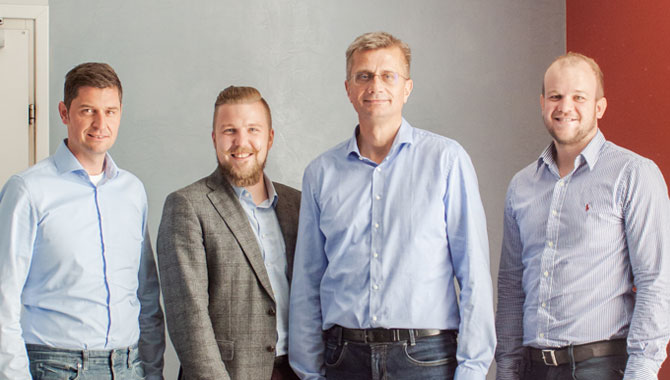 L.t.r.: Patrick Müller (co-owner), Michael Hauser Sales Director Austria, Stefan Tasch CEO LUMITECH, Michael Paukowits CEO LED Linear Austria
LED Linear's product range includes many linear lighting systems that have been awarded international design prizes. Based on a modular construction principle, over 30 million individually scalable solutions can be generated, including with IP 67 protection. Custom products are also possible.
The lighting systems cover everything from ambient to general lighting, and from furniture-integrated lights to façade illumination at a height of 300 metres. The use of high-quality and long-lasting components guarantees energy-saving solutions with an extremely long life of up to 60,000 hours. Registered trademarks of LED Linear GmbH are: LED Linear™, LEDsClick™, TjAway™, VarioLED™, HYDRALUX™, XOOLIGHT™, XOOLINE™, XOOLUM™, XOOLUX™, XOOMINAIRE™, XOOMINARIS™, XOOMINESCENT™, XOOTUBE™. The company's products are distributed from several sites around the world: the USA and Canada, Singapore, India, Australia, France, Spain, Italy, Switzerland, the UK and the Middle East – and now also Austria.
Ing. Michael Hauser will be responsible for the sales of LED Linear Austria GmbH in Austria. Mr Hauser has already worked in selling linear lighting for 4 years; his last position was with BILTON, the LED tape manufacturer. He is now taking the next step: the 26-year-old native of Tyrol will take on the role of sales director on 1 October 2019. "I am happy about the opportunity to actively shape the future linear lighting market and to continue to increase the trust of the owners of LED Linear Austria as Sales Director. With our strategically scalable lighting modules and systems, we create the perfect conditions for developing LED Linear Austria into a strong player in the dynamic market", says Hauser.
"We are very enthusiastic about the product range of LED Linear and see a need in Austria in the growth segment of high-quality, design-focused linear lighting – particularly for exterior applications. The product range ideally complements the portfolio of our subsidiary, KITEO, the specialist for Human Centric Lighting. We have the perfect partner in Patrick Müller, who really made his mark on the Austrian market", says Stefan Tasch, the CEO of LUMITECH.
"Following the successful laying of the foundations of the Austrian market, we are looking forward to penetrating the market segments in Austria for the LED Linear product range together with such strong and competent partners", adds Mr Thurau, Sales Director of LED Linear GmbH.